On-Demand Webinar:


Cybersecurity Insurance
How are you preparing for what's not covered?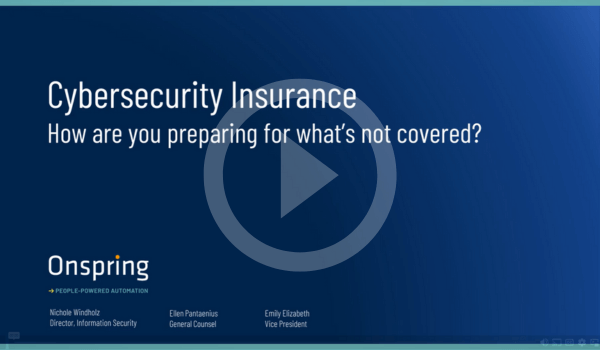 $4.35MM: average cost of a data breach in 2022
It's smart to know the coverage amounts of cybersecurity insurance policies for your organization, suppliers, and partners. It's arguably more important to focus your infosec team's attention on those policies' limitations – or stipulations – to better protect your organization. Did you know cybersecurity insurance policies do not cover losses incurred from a breach because of poor security practices or unreported failures? Insurance is not a substitute for poor practices.
In this session, we'll review how to better manage cybersecurity insurance data, including measuring your levels of risk from non-compliant controls or potential third-party exposure.
Key Takeaways: 
How to identify missing coverage in your cybersecurity insurance policies
Processes for reporting compliance practices to avoid non-coverage issues
Tracking and analyzing risk from third-party cybersecurity insurance gaps
Watch the Webinar Recording
Want to explore more?
Megan Guerra
Find out how to move your information security program forward with custom considerations that enhance the real status and success metrics for security practices.
Megan Guerra
If you're a risk management leader who wants to stay ahead of cyber risk, watch this on-demand webinar.
Megan Guerra
Learn how to vet and select GRC projects are worthy of a proof of concept (POC) to test ROI before a full implementation.